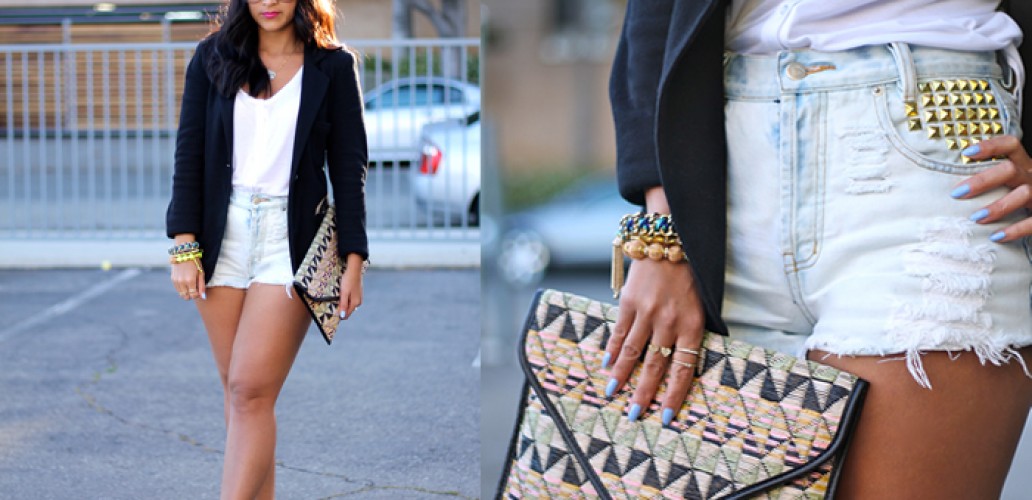 Walking On Sunshine
Vibrant, feminine, delicate with a dash of edge and sass… These beauties are just my cup of tea! I found these yellow Zara sandals during a shopping trip in LA and it was the very last pair in my size! I have the worst luck when it comes to finding a size 6 at Zara (in store), let along something so pretty and wearable. It seems like my obsession with neon is not going to subside anytime soon.
[Photos by NR]   Top:
Material Girl
black blazer / H&M white tank Bottom: DIY distressed denim studded shorts (before:
this
) Bag:
BCBGeneration
woven envelope clutch Shoes: Zara yellow ankle strap sandals Accessories: Bracelets: (From top to bottom) F21, market in PR, ASOS spikes, neon from Melrose Ave. / Ring:
BCBGeneration
pave hearts ring / Glasses: Giorgio Armani aviators  
In addition for my love for neon, one of my favorite summer trends are high waisted distressed denim studded shorts (that's a mouth full!). A couple of months ago it was somewhat difficult to find them in stores, at least ones that are high waisted, distressed and has studs. They were mostly sold online and ranged anywhere between $75-$200… For something that I'll wear only during the summer, economically it's more efficient to make them at home. It's pretty easy too! Cut, snip, thrown in washer/dryer and voila!
These particularly shorts were originally a pair of high waisted mom's jeans purchased from a vintage shop for $10. Since I recently made a pair of blue distressed shorts, I experimented with bleach to turn this pair into white shorts. I was pretty happy with the results!
The awesome thing about DIY projects is that you can customize them to be exactly how you like. And since it's your labor of love, it's extra special. I love arts & crafts so naturally DIY projects are always fun for me (well until something goes wrong lol). Do you like to DIY? I'd love to know what's your most prized DIY project… Mine was a piece of art that took me over 6 months to complete.
You can check out my DIY instructions on my first pair of distressed demin shorts here.
Happy Friday lovers! xo