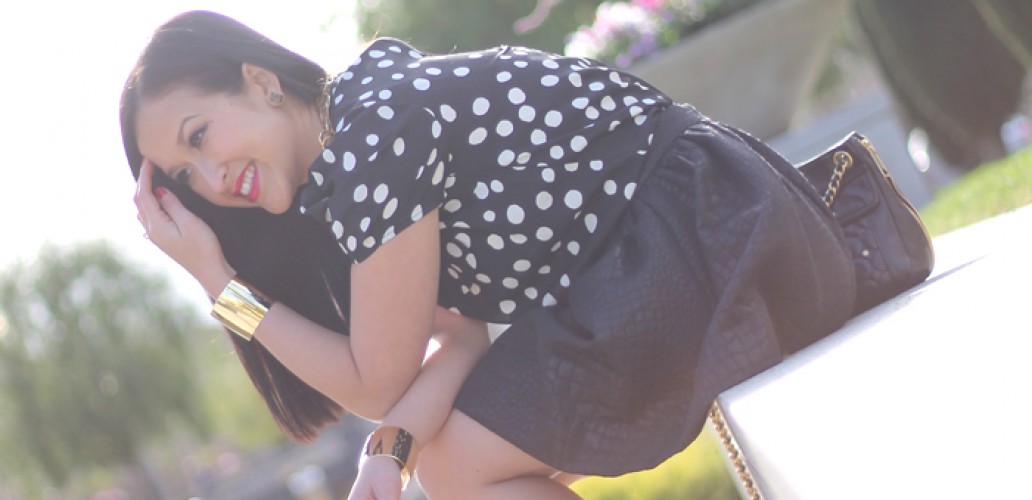 P.O.C.
"Clouds come floating into my life, no longer to carry rain or usher storm, but to add color to my sunset sky." -Rabindranath Tagore
[Photos by NR]
  Top: Forever21 Polka Dots Blouse Skirt: Aqua Full Flared Skirt Blazer:
Material Girl
Shoes: Sam Edelman Purse:
Rebecca Minkoff
Swing Black Shoulder Bag Necklace /Cuffs: from Bloomingdales  
We all live in a world where colors affect us in our every day lives. How we decorate our office, our home, and one thing in particular, what we wear. There's no denying that colors and moods are inextricably linked and influence how we feel… Slip on a red dress and you instantly feel sexy or pop open a yellow umbrella on a gloomy day and some of that sunniness will undoubtedly rub off on you.
Today was a gloomy day but this turquoise sandals by Sam Edelman did the trick to brighten up my day. Whether it's shoes, a bag, a necklace, or just red nails & bright lips, colors play an important role in my wardrobe. Black and white is lovely and a true classic but our world would be dull without a P.O.C. (pop of color).
I was first introduced to Edelman's shoes via the Lorissa and Scarlett spike pumps. They are fierce but due to the contrast between 5 inch heels and very little to no support in the front (no platform), the balancing act was quite difficult. I felt like a little girl putting on my mom's heels again and by the end of the night, my feet was a swollen hot mess! Disappointed that such beautiful shoes are unwearable, I sent a letter to Mr. Edelman asking to please incorporate more platforms. When i stumble upon these new turquoise beauties with platform, you can only imagine my joy. Thank you Sam Edelman, I am a now a huge fan!
If you can brave the extremely high-heel vs. low-platform balancing act, these lovelies are edgy and can be used as a weapon on those creeps at the bar (wink).
Other colorful Edelmans that I found to be pretty comfortable.
For details on where to purchase these shoes, check out my Polyvore page. xoxo