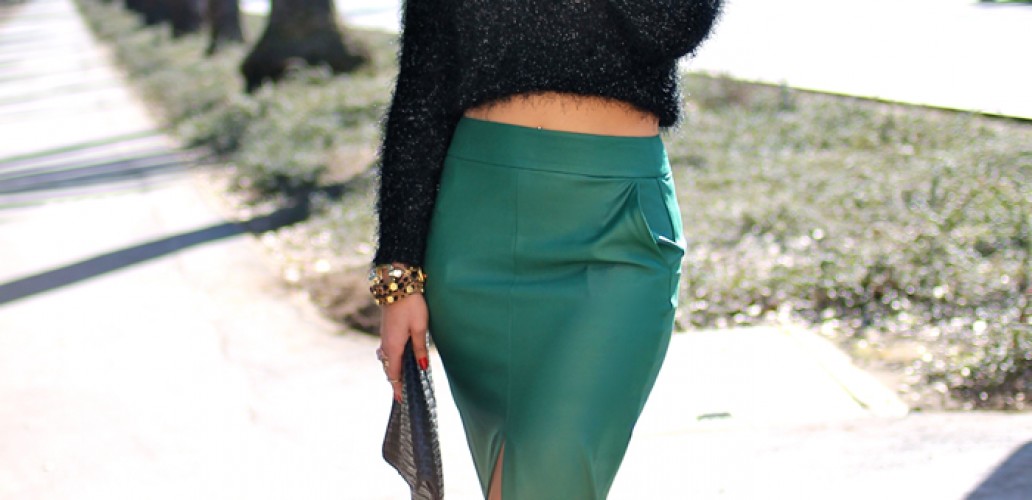 The Girl In The Green Pencil Skirt
[Photos by NR]
Top: H&M | Bottom: ASOS pencil skirt | Steven by Steve Madden ravesh pumps | Purse: Envelope clutch (similar here) | Necklace: Nadri
* * *
Generally speaking, we all know that the sweet pencil skirt, once known mainly for the corporate setting has evolved tremendously over the decades. Today, it comes in an array of styles – from lace to leather, bold prints, cuts, colors and textures…without a doubt, it's much more fun, sportier, edgier and sexier these days.
I came across this green pencil high waisted skirt with a flirty little front slit when I was accidentally on ASOS (as if going on ASOS was ever an accident). The wet-look fabric slightly resembles leather from afar but it's a lightweight polyester material that stretches. And ladies, I know you agree clothes that stretches are pretty darn amazing! When it comes to form fitting skirts, I normally have to get the waist taken in so I really appreciate that this skirt fits true to size while the material stretches comfortably in the hips and legs… and believe me when I say this skirt is like the push-up bra for your booty. :)
For the price, it's very well made and is extremely comfortable that I ordered both the black and green!
The options for styling a pencil skirt is no longer restricted to it's once one-and-only counterpart, the button up shirt. I love juxtaposing the polished silhouette with different looks such as a crop sweater, a fitted peplum, a tank and leather vest or just a loose t-shirt.
Via my instagram, I called these looks (left to right) "Sassy, Classy, Edgy and Easy Breezy." I was in a sassy mood so I went with look #1. :)
Which look is your favorite?