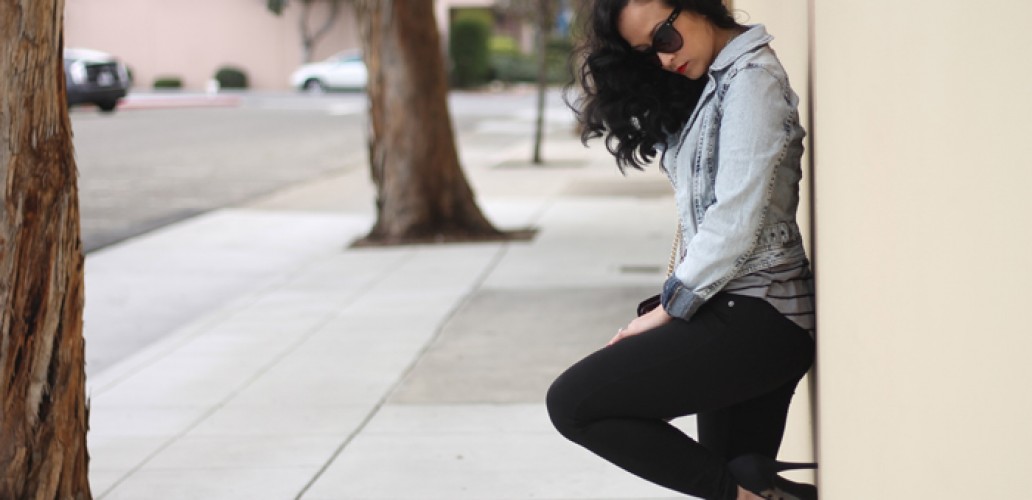 Hybrid
"It doesn't interest me what you do for a living. I want to know what you ache for, and if you dare to dream of meeting your heart's longing." -Oriah Mountain Dreamer
[Photos by NR]
  Top: Stripe Tank from
H&M
Pants: Black Jeggings from DaMasque Jacket: Faded Denim Biker Jacket from
H&M
Purse: Milly Allie Clutch from
Bergdorf
(on sale) Shoes: Beverly Feldman Glasses: Christian Dior
What I fancy about skinny jeans are the skinnies with an extra dose of lycra thrown in…The Jeggings. Also known as the love child of jeans and leggings, these hybrid pants are one of my fave to-go-to item when I'm going out, running errands, or just lounging around on weekends.
However, over the past few seasons, jeggings was tagged with a bad rep due to many unexpected appearances of "the camel toe" and other bodily features that I'm sure you're all aware of. But just because there are a few bad jeggings out there, it doesn't mean they all bad.
As a devoted jegging's owner and in the interest and protection of the jeggings species, I want to share a few reasons why I think they are awesome and should not be banished. Here are my top 10 arguments for jeggings.
10 Reasons why Jeggings are Awesome:
1. They are freakin' comfortable.
2. Gain weight or eat a huge meal, you can zip up your jeggings and still breathe!
3. Black jeggings can totally be passed for jeans, but comfier.
4. It doesn't take 10 minutes to squeeze into your skinnies.
5. Tucking your pants into boots is no longer a chore.
6. They are versatile and can be paired with heels, chic top, and blazer for a night out or a tee and ballerina flats for running errands.
7. You can do yoga in them.
8. Unlike "leggings," you don't have to wear a long top to cover your butt and can even tuck your shirt in your jeggings.

9. You can do cart wheels in them.
10. They are lightweight and are easily packed. Did I mention they are freakin' comfortable?
Readers: Do you think jeggings are amazing or awful? Share your opinion below in the comments!