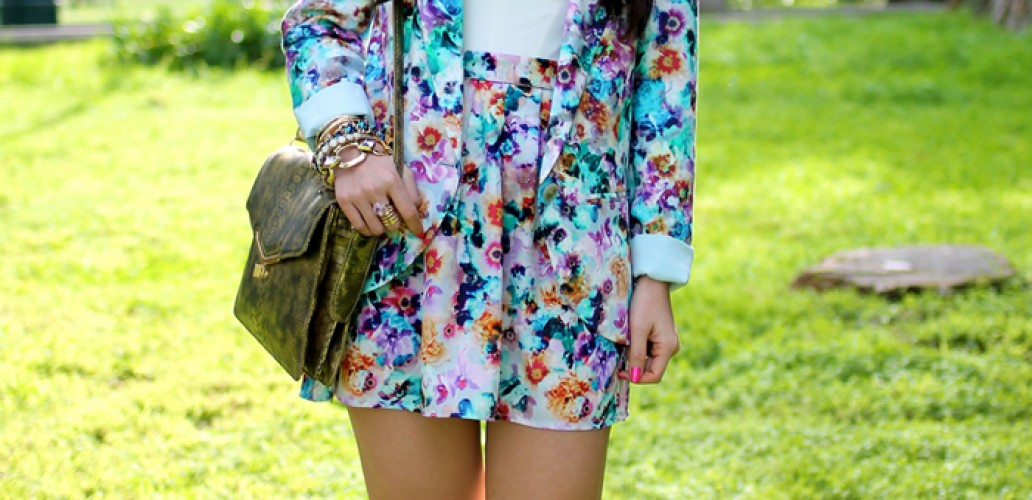 Two Of A Kind
[Photos by NR]
Top: Hinge floral blazer,  Felina bustier | Bottom: Hinge floral skirt | Bag: Botkier Valentina bag | ID necklace: ebay | Shoes: Schutz Shoes (similar here and here) | Bracelet: Robert Lee Morris

* * *
Mixing prints and colors has been my favorite thing for years but lately I'm kind of drawn to the match-matchy sets. When I spotted this Hinge two of a kind skirt & blazer a while back, I thought how 80's and felt it was too matronly to pair the two.
Well, fashion has a way of playing tricks on me because I came across this set again, tried it on, accessorized it and I had an immediate change of heart. The matchy faux-pas was thrown out the window and I found my new love for matching prints and colors. Since I'm still standing in shallow water, I didn't want to go overboard from head to toe so I paired this set with a white top and neutral shoes to offset the prints (I still refuse to wear matching shoes/belt/purse). I love how fashion can reintroduced an idea that was once considered bad taste and made it work, because wearing this doesn't make me feel matronly at all… I felt fearless, fun, and young!
What do you think about the matchy-matchy trend?