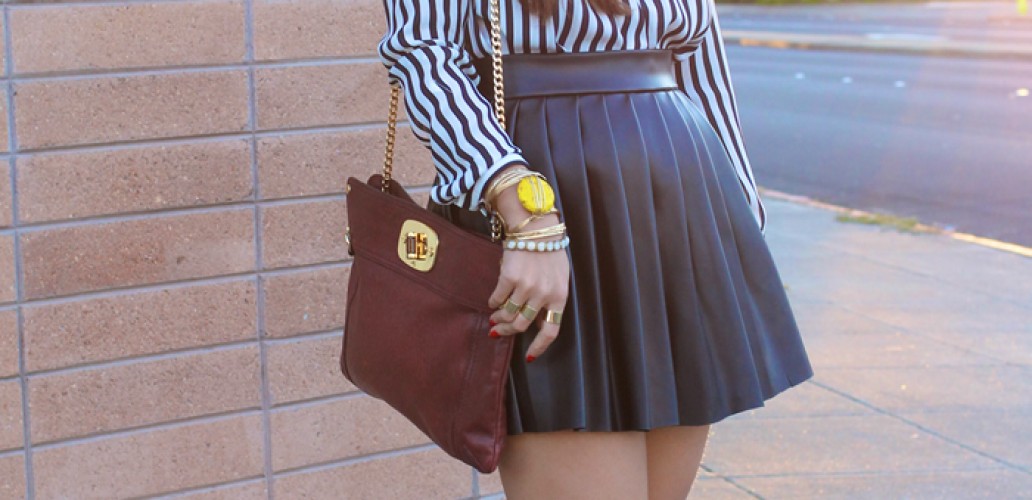 I'm a huge fan of statement pieces (especially with beautiful semi precious stones) so it was naturally love at first sight when I laid eyes on EselviDesigns handmade jewelry by Shainery Vargas. Most of Shainery's designs are bold and vibrant with a feminine touch of delicate wiring details that makes each piece unique and one of a kind.
[Photos by NR]
Top: H&M stripes blouse (similar here and here) | Bottoms: DIY pleated (faux) leather skirt (tutorial HERE) | Shoes: Valentino rockstud t-strap black pumps | Bag: Milly | Accessories: ASOS wide band ring set, Amelie wire bracelet c/o EselviDesigns  | Glasses: Giorgio Armani
* * *
I recalled mid last year my girl Sabby of RougeSpark and I searched high and low for the perfect black leather skirt. We seriously went on a mission (no joke) and even ordered numerous skirts online, only  resulting in returns because we refused to pay $500 for this Alice + Olivia skirt which we really loved. All we wanted was a nice quality little leather (or faux) skirt that's affordable, but for some reason, it was nearly impossible at that time (pleated leather skirt recession I'm guessing).
Well you know what they say…when you can't find something, just make it. Ok, I'm not sure if anyone actually said that but it sure gave me that extra push. I have to warn ya, the fabric was stubborn to work with especially through the sewing machine, but if you're patient, you can get exactly what you want for under $25, it's your labor of love and you can save the money to buy more shoes! :)
See my Skirt DIY Tutorial HERE