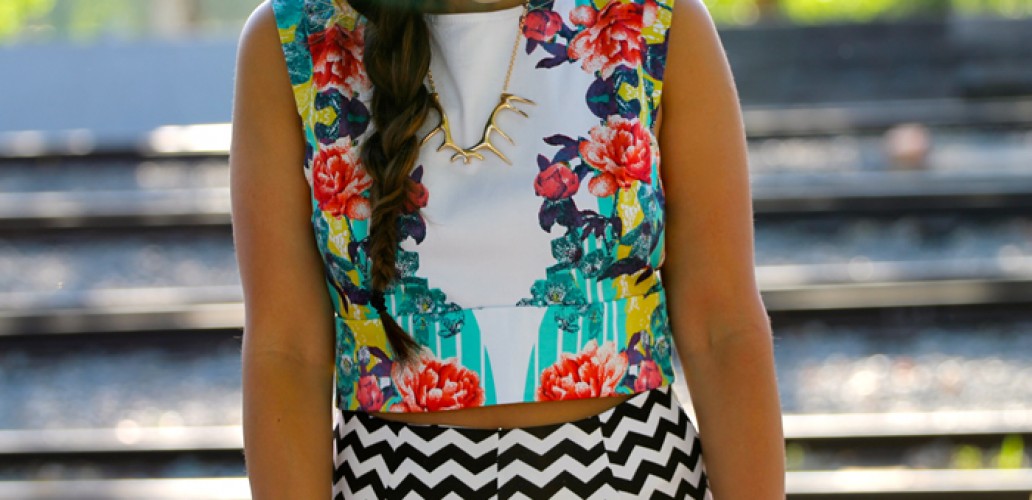 Florals, stripes, geometrics, chevron, polka dots, abstracts, paisley, embroidery, sequins and embellishments has dominated my closet for what feels like forever so you can imagine the thrill when I realized how awesome mixing prints and patterns together no longer clashes. Well, this "trend" is nothing new, but there's always something new and refreshing every time (see them again here, here, here, here, and here).
Adding to the mix are my current favorite accessories, this alpine gold necklace from Olive + Piper and this inexpensive-but-pretty-awesome-aviators. I have been looking for blue/purple aviators and can't believe I found them from H&M for $7. Score!
[Photos by NR]
Top: Ardeb B mirror floral crop top | Bottom: Love Culture chevron high waisted shorts | Bag: Valentino Rockstud mini tote | Shoes: Christian Louboutin | Necklace: c/o Olive + Piper | Bracelets: Alexis Bittar cuff, Aqua, | Sunglasses: H&M
* * *
I was pretty thrilled over the weekend because we have another new lens to play with and I'm madly in love (helloooo ultra wide angles). Nate is dipping his feet more into photography and I am so proud of him, and of course offered myself to be his guinea pig for photos anytime he needs them (haha). Well, I hope your weekend was an eventful one and you're all rested up for another week of life. xoxo
Btw, I received this shorts from OASAP but the size S was a little snug on me, so instead of returning it, I was asked to do a giveaway for the pair I have. Free shipping within the USA. Enter below to win!
Shorts are a Size Small and they are 26″ waist, 31″ hips, 15″ length and 21″ around each thighs.