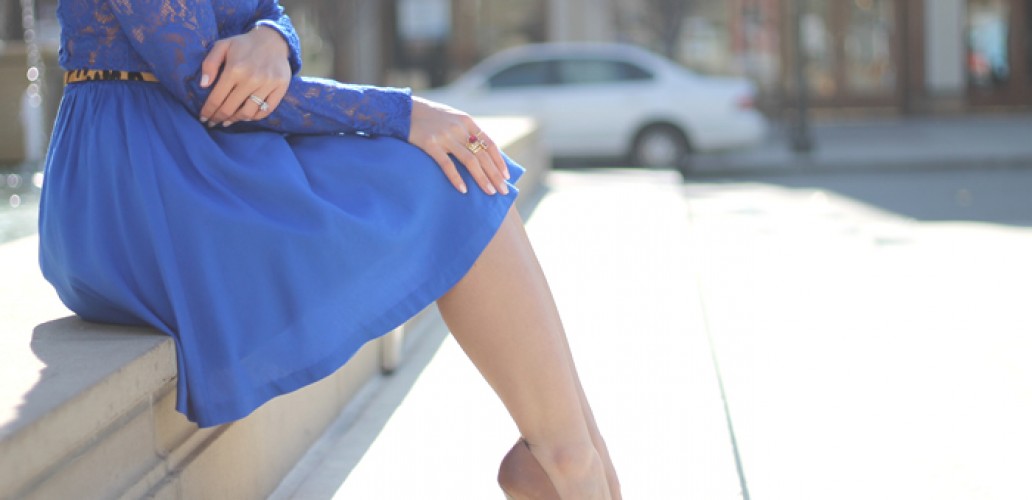 Lady In Blue
"Somewhere over the rainbow, skies are "blue," and the dreams that you dare to dream really do come true." – Lyman Frank Baum 
  Dress:
H&M
Belt: Lodis Leopard Print Belt from
Nordstroms
Earrings:
Nordstrom
(currently on sale) Shoes: Jessica Simpson Leather Camel Pumps Shades: Prada Butterfly Frame Lipstick: M.A.C (color: Girl About Town)  
I hope everyone is having a wonderful weekend so far. I wanted to post some pictures of a recent fab find!
I stopped by H&M the other day and saw a really cute lace and jersey cobalt blue dress. The dress had an attached matching blue tank which I thought took away from the beauty of the lace because the two coalesced into one. Therefore, I decided to do a little D.I.Y:  The tank was cut out and traded for a nude cami. I like this look much better because I can now see the details of the lace. A leopard belt and gold earrings were added to complete the look!
:: Style Tips ::
Like anything in life in my opinion, too much of anything is never too good, and too many accessories can make an outfit look cluttered. Since the lace details was already a statement in it's own right, and I was wearing a waist belt and statement earrings, my neck and wrists were kept bare to balance out the look.