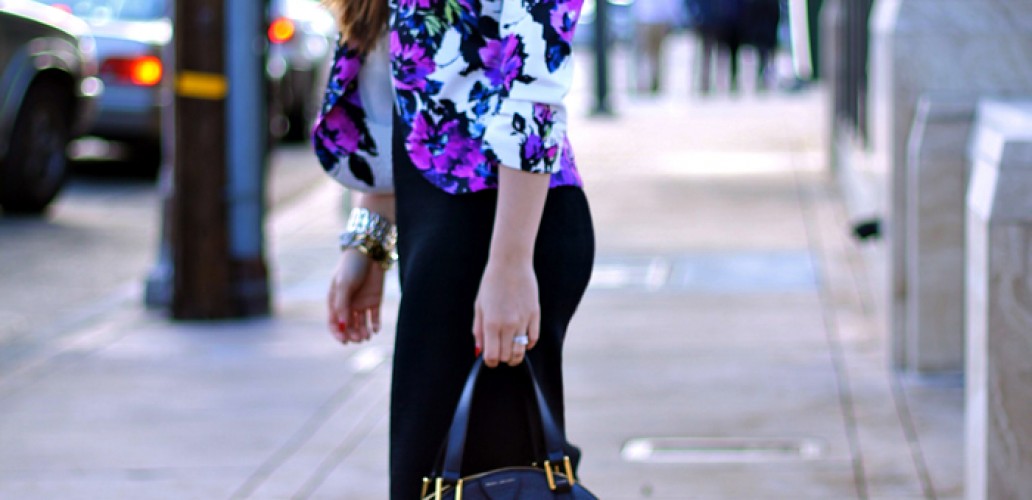 pretty purple and pink lisianthus with bumble bee
I don't think I'll ever get tired of print mixing. It's so much fun, to carelessly throw two very different patterns together that somehow not only can co-exist but also compliment one another in an effortless way. The Spring/Summer 2013 fashion week season promised so many interesting prints and patterns all mixed and mashed in one ensemble with reckless abandonment, which I love. Sometimes it's a bit risky but print mixing looks so awesome when you get that right combination.
[Photos by NR]
Top: F21 stripes tank, Aqua floral blazer (similar here, here, and here) | Bottom: Express pencil skirt | Shoes: Vince Camuto booties | Bag: Marc Jacobs Crosby Sutton | Glasses: Dior cat eye
* * *
One of my favorite print is floral because it goes with pretty much anything. For example this outfit was total accidental. I had on a white crop sweater yesterday morning over this stripes tank and the oldest pencil skirt in the history of all pencil skirts.  It's really that ancient and is pretty much falling apart, but it's so stretchy and comfortable that I refuse to throw it out. Well, being the clumsy person that I am, I spilled coffee all over my sweater. Luckily I had this blazer in the car and actually love the combination far more than what I'd originally wore. The moral of the story and why I just put you through a really boring example is sometimes unplanned things are better than thought-out ones! :)
Happy weekend guys! I'm going to a wedding this Sat and am excited to share with you how I'm going to make a formal evening dress (for the reception) work for a day time ceremony. See ya on Monday!
xoxo,