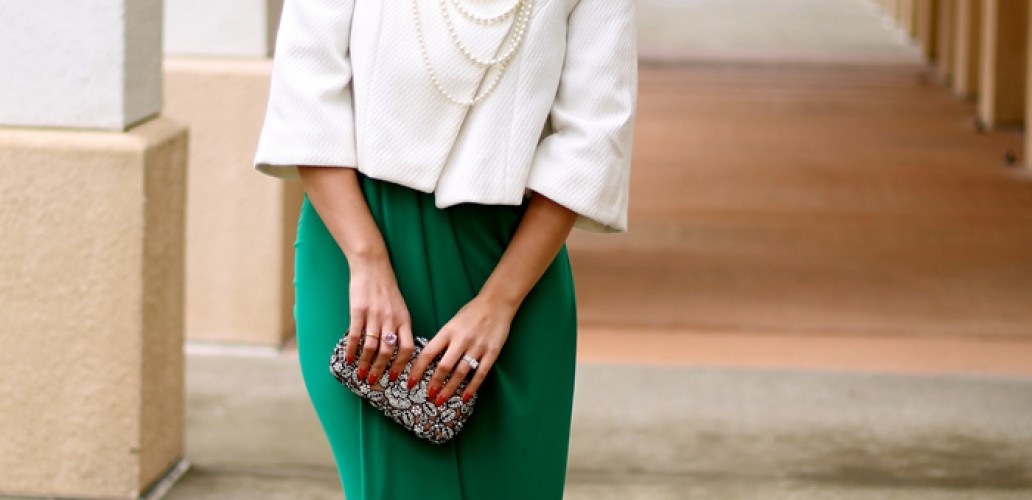 Weekend Wedding: Stylin' an Evening Reception Dress for a Daytime Ceremony
Nate and I took a mini road trip to Sacramento to attend a beautiful wedding over the weekend. I wanted to wear this Grecian style emerald green dress for the semi-formal evening reception but given that the ceremony was during the day (2pm) and was at a church I had to find a way to cover up and not be over dressed without having to change clothes. After debating between a shrug, a blazer or a scarf, I rummage through my jacket closet and found this ancient but beautiful ivory wool coat. It's a nice color contrast that has the perfect amount of coverage and warmth and still maintained the elegance of the dress. I kept jewelry simple and added layers of pearls to pull the look together.
The beautiful bridemaids (left and middle) and MOH (right).
Of course the biggest moment of any wedding ceremony is when the bride walks in but I think a very understated moment is when the groom walks his mom down the aisle and stand in front everyone waiting for his beautiful bride. That very moment when he's standing there waiting for his love with anxiousness and nervousness is so precious. It always reminds me of Nate when he waited for me to walk down the aisle on our wedding day. I don't think I'll ever forget how he looked at me. *tear* :)
Helen was so angelic she absolutely took my breath away. I think this was the moment when I started snapping pictures so furiously like a wild paparazzi all awhile crying at the same time.
Congratulations Helen and Jason!! We are so happy for you both!
Even though I adore my mom's pearls, I think less is more with this dress so I decided not to wear them for the evening. It's hard to see in this photo but there is a rhinestone brooch on the shoulder. The stretchy jersey material is so comfortable yet the design is still elegant. Under the drape there is a slit for ease of walking without being restricted. The best thing about this dress in my opinion is definitely the front drape. This was a (half) Eritrean wedding so that means there were plenty of yummy food (Ingera). I love the fact that I can stuff my face like there's no tomorrow and not feel self conscious that my stomach was going to explode. So thanks Ralph Lauren for such an amazing drape creation. :)
If you haven't, meet my husband/partner in crime/photographer/better half Nate, who's rocking the geezer style with his custom converse and Calvin Klein suit.
Dress: Lauren Ralph Lauren one shoulder dress | Top: American Rag crop jacket (similar here, here,  and here) | Shoes: Christian Louboutin | Clutch: Tasha
* * *
I hope you all had a wonderful weekend. I cannot believe next week is Christmas and then NYE is just around the corner. Where did 2012 go? We're going to NYC for NYE and still debating on what to do. Would love to hear your recommendations on local favorite places to eat, explore, shop and nightlife?
Until then, love your significant other, spend more time with your parents and hug your children longer because tomorrow is never promised.
Love, KTR
[Photos by NR & I]