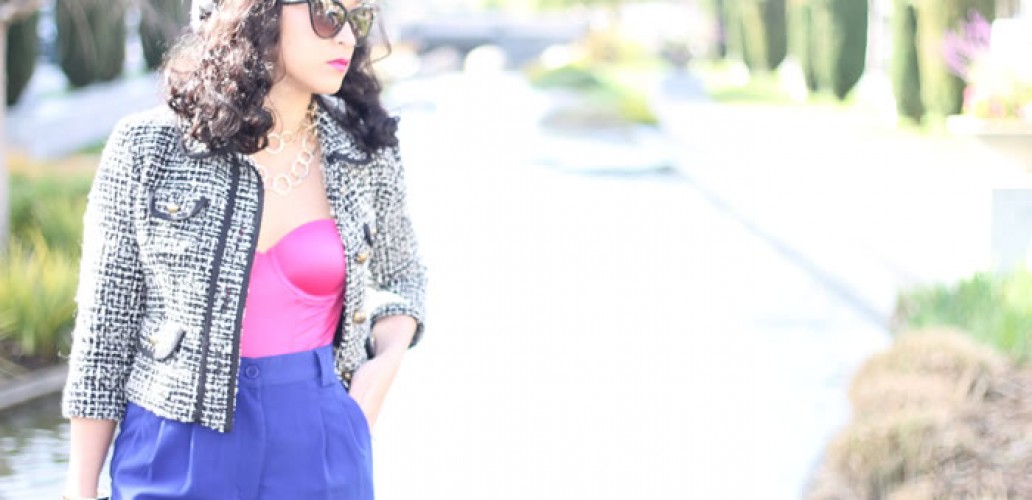 Vintagosity
"Happiness is a wine of the rarest vintage, and seems insipid to a vulgar taste." -Logan Pearsall Smith

[Photos by NR]
  Top: Corset from
Victoria's Secret
Pants: High-Waisted Trousers from
American Apparel
  Jacket: Cropped Tweed Jacket from Express Bag: Marc by Marc Jacobs Over-sized Satchel (smaller size
here
) Glasses: Christian Dior Shoes: Enzo Angiolini Tanen Pumps from
Nordstrom
Necklace and Beret: Necklace and Slouchy Beret from Nordstrom Nail Polish: Urban Outfitters  
There's something about the 1940s and 50s that oozes gorgeous femininity and vintage glamour.  Being obsessed with high-waisted anything, of course the high-waisted tapered trousers are one of my fave. I adore them not only for the look but also for the reason why women started wearing them. Do you know the story?
During the 40's men wore high-waisted pants. While they were at the battlefronts, women adopted the style to take over their mens' workplace. Realizing the comfort, the high-waisted pants were stuck and adopted into many shapes and forms.
In the 80s's the high-waist pants became less form fitting and more voluminous with pleating around the hips. This continued to be popular well into the 90s and the 21st century, but with bolder and brighter hues. I'm so glad that this look has such a special place in fashion culture because I cannot get enough of these feminist pants!
 :: Style Tips ::
I am no expert and for all I know I might be wearing this all bad, but for me when it comes to wearing high-waisted trousers, I have two essential rules: (i) A fitted or cropped top, and (ii) high heels.
Fitted Top: A cropped or form fitting top balances out the extra material in the pants. If you opt for the latter, make sure the shirt is tucked in (don't cover up the best element of the pants) and does not add too much bulk under the pants.
If it's chilly out go for a fitted, structured, and cropped jacket. Avoid outerwear that sits passed your hips as it can make you look dowdy and bigger than you really are.
High Heels: High-waisted trousers look their best with high heels (a must if you are very short) or bold flats (only if you've got the height).
Happy Monday and Lunar New Year! Thank you for reading!