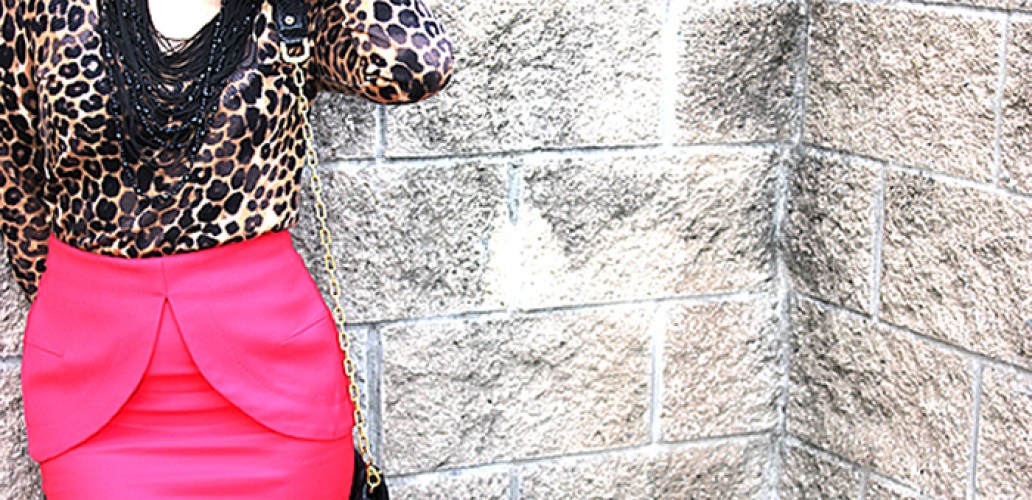 Peplum skirts, often associated with the hourglass shape of the 40s and the power suits of the 80s has faded in and out of fashion for quite some time. What is a Peplum you may ask? It's a short overskirt attached to a fitted skirt (it can also be attached to a jacket or dress, which I will discuss in future posts).
I adore the style of Peplums because it hugs the small of the waist and flares out at the hips, giving off an hourglass shape. I also love this style because it hides any flaws around the stomach, and accentuates the right areas near the hips. It's also wonderful if you just ate a large meal and don't feel like sucking in your tum all night…
While at H&M, I came across this sassy bright reddish-pink Peplum skirt. I decided to add a bit of contrast by pairing the vibrant skirt with a leopard print V-neck sweater from Express. Since the sweater's V-neck is a bit low and wide (even in the smallest size XS), I've added a Forever21 layered black necklace to avoid any peek-a-boo incidents. Finally, since the outfit is a bit busy with the statement necklace and printed top, I decided to complete the look with simple black pumps and the classic black leather clutch from Tory Burch.
My Review:
The skirt is very comfortable. It doesn't twist and stays put for most of the day. The medium-weight material feel like satin, slightly stretches, and is really comfortable.
The sweater is soft and lightweight. However, the sleeves are quite long and I have to fold the bottom of the sleeves under to fit my arms length. Also, as mentioned above, the V-neck is pretty wide and deep. The quick fix is a cami to go underneath or a busy necklace to layer over the top. I like the color variety that this sweater offers and because it's so lightweight, it's a piece that can be worn throughout the year.
The necklace is a fab find from Forever21. The strings can get really tangled and some of the beads will fall apart if you're not careful. To keep the strings from getting tangled, I hung this on my necklace jewelry holder.
The shoes are by Vince Camuto and I really like the height and hidden platform. I'm only 5 feet tall and can use any height I can get! It's pretty cushioned and soft inside, but I found my feet in some pain after standing around in one position. I think I have to just break them in…Overall, it's a keeper.
The Clutch is a sold out item of Tory Burch. Unlike most of Tory's clutches, the logo is not shiny at all. The same leather material is designed into the logo to match the leather on the clutch. I also enjoy having the option of wearing it with or without the straps.
H&M
Peplum skirt $39
Express
: Leopard Print V-Neck Sweater $49 
(currently on sale for $19 and comes in many colors and patterns)
Saks
: Tory Burch Amanda Logo Leather Clutch $325
Nordstrom
: Vince Camuto Korsi Pumps $118
Forever21
: Layered Beaded Necklace $12
(old item)
:: Style tips ::
If you have a slender figure, you can get away with a dramatically flared peplum — it'll give you the right amount of shape and curve without overwhelming your figure. Not to mention it's fun and daring! If you are curvier, go with a more fitted and shorter peplum style. This will allow you to show off your curves while emphasizing and accentuating a cinched waist.
What's your opinion on Peplum skirts? Is it a piece you would have in your closet?