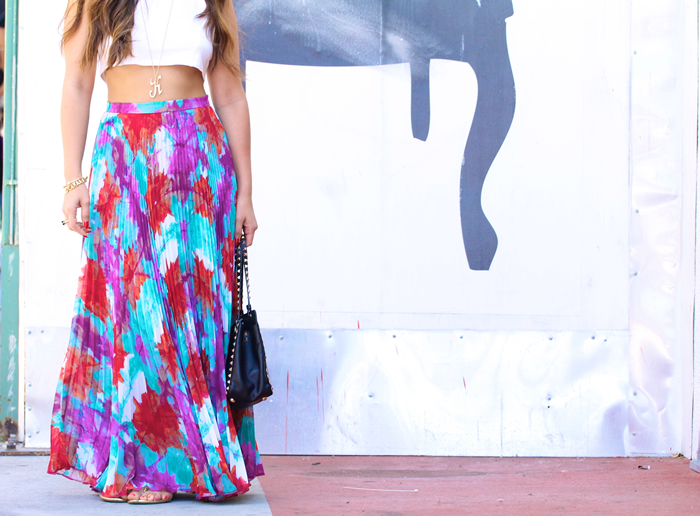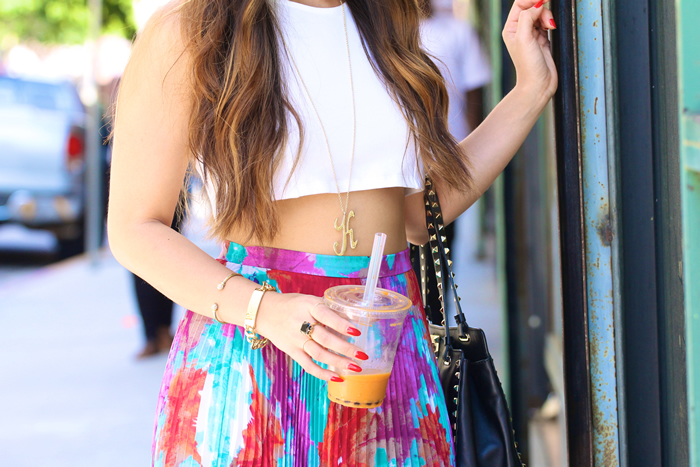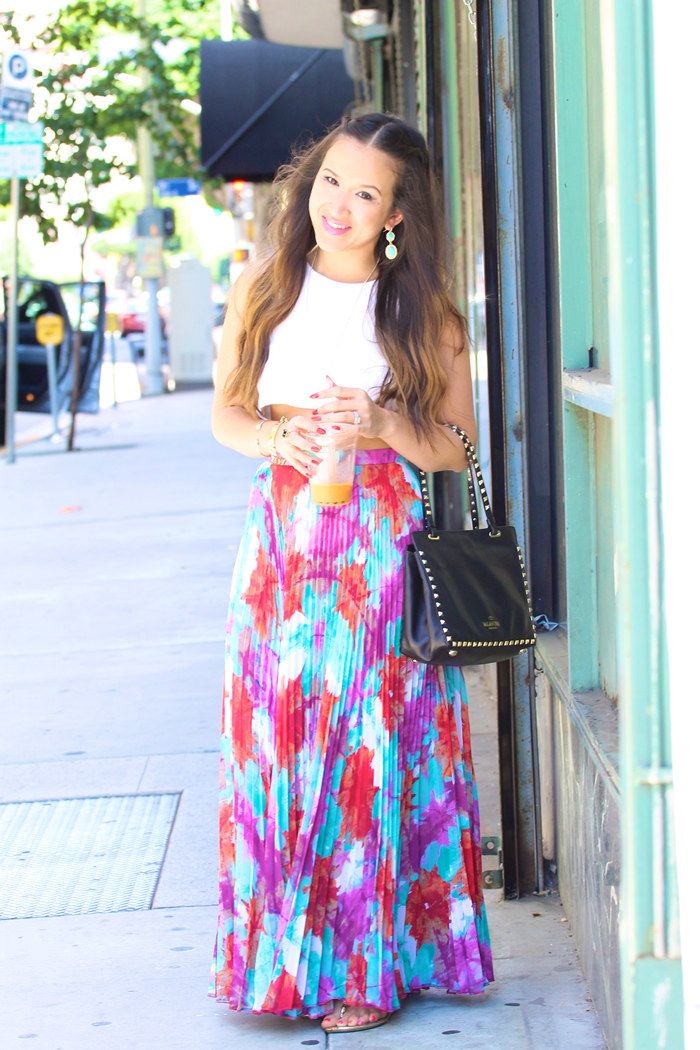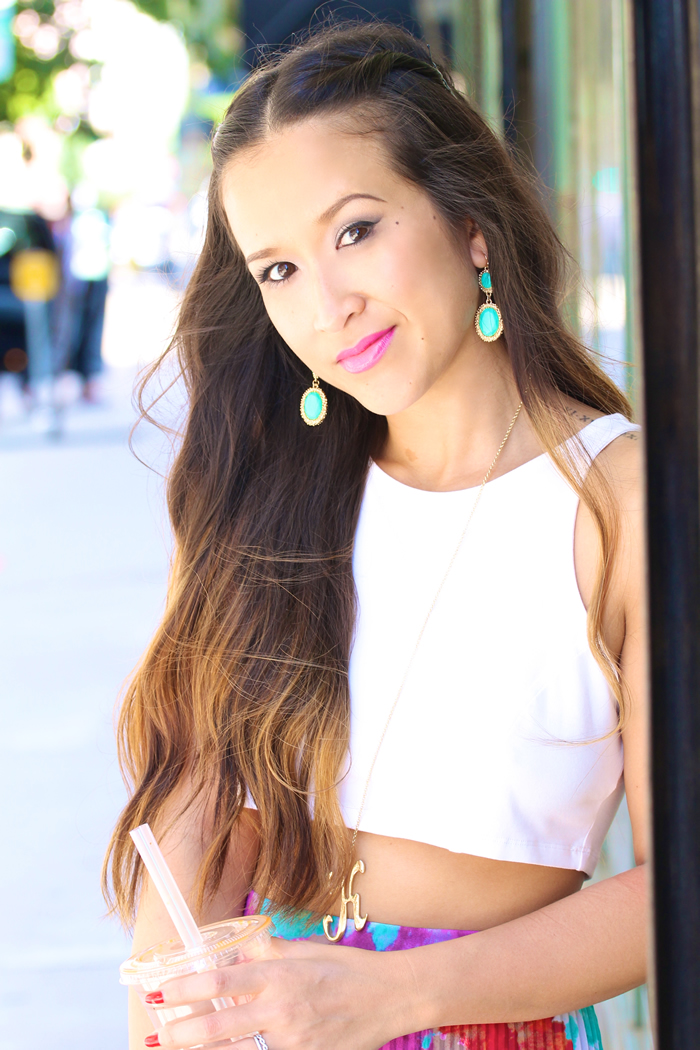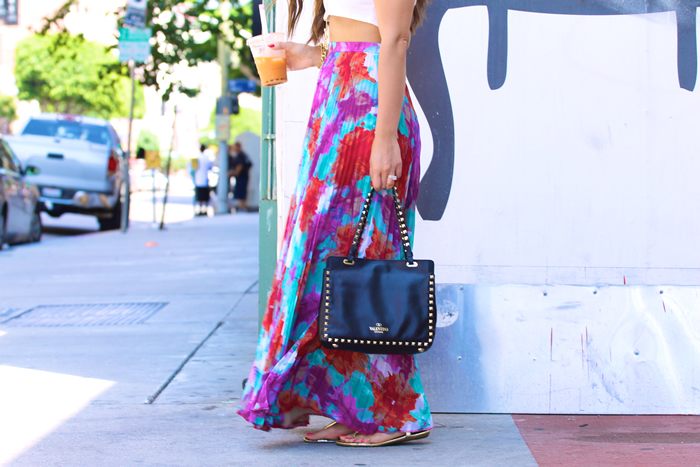 {Photos by NR}
Top: Piper Project | Bottoms: Laundry pleated maxi skirt (old: similar here and here) | Shoes: Rachel Zoe | Bag: Valentino 'mini' rockstud bag | Necklace: Aqua initial pendent | Earrings: c/o 2 Hello Beautiful | Bracelet: Marc Jacobs ID bracelet
* * *
So what makes a blog successful and what makes it not anyway? I'm sure it's a question that many people would like to have the answer to…and surely myself including.
From what meets the eye, the obvious way to tell that a blog is "successful," is the amount of audience it carries, maybe even the number of comments per post. Some may even "think" that free swag automatically gives a blog a notch up on the popularity scale.  Here's the thing I noticed: there are many (fashion) blogs out there that has the same content over and over and over with the same looks on replay. Sometimes the content is an exact replica of another. Other times you can tell images were thrown together and the writing rushed; some doesn't even write a word; and on many occasions they never engage with their followers or answer any questions. Isn't successful blogging all about original content and engaging with the audience? So (in my best Bradshaw's voice) I can't help but wonder, how are these blogs getting bigger and bigger everyday while the blogs who put so much effort, energy and love into writing a good post are barely getting acknowledged?
I started my first blog in 2006 but quit because I totally suck and I'm a quitter I didn't have the passion at the time to keep up with it. I started blogging again in 2012 and over the last year and a half (and still kicking and alive), I was lucky enough to meet some pretty amazing people who I know spend a great deal of time on quality content. Then it dawn on me why I enjoy being friends with these people and always look forward to coming back to visit their sites. I realized what makes them interesting and therefore why they are successful in my book.
Successful blogging is not about having 500,000 followers who only wants to be your friend because you are ranked high on the blogosphere. It's also not about having 500 commenting "cute outfit" followed by a link to their blog in hopes of getting return traffic. It's about having a good amount of people who actually read what you have to say and engaged with what you're putting out there. It's not about wearing freebies from head to toe. It's about being selective with what brands you work with and share honest reviews with the people who trust your opinion. It's about writing good content so that a reader can go away with something to think about. It's about being original and unique…being you. It's about quality over quantity. At least that's what I thought it was supposed to be.
Lately I feel like blogging has lost it's natural juices and sometimes it feels like everyone is doing the same thing another person is doing. I don't know, maybe I'm rambling and I'm not making any sense (well it is 4:00AM). To be honest, even though blogging is not my career, but it's something I enjoy doing that has grew into loving. I'm just curious to hear your thoughts on what has happened to blogging and what does it mean to be a successful blogger! Btw – you're welcome to tell me my outfit is cute…j/k :). Good night or good morning! xo