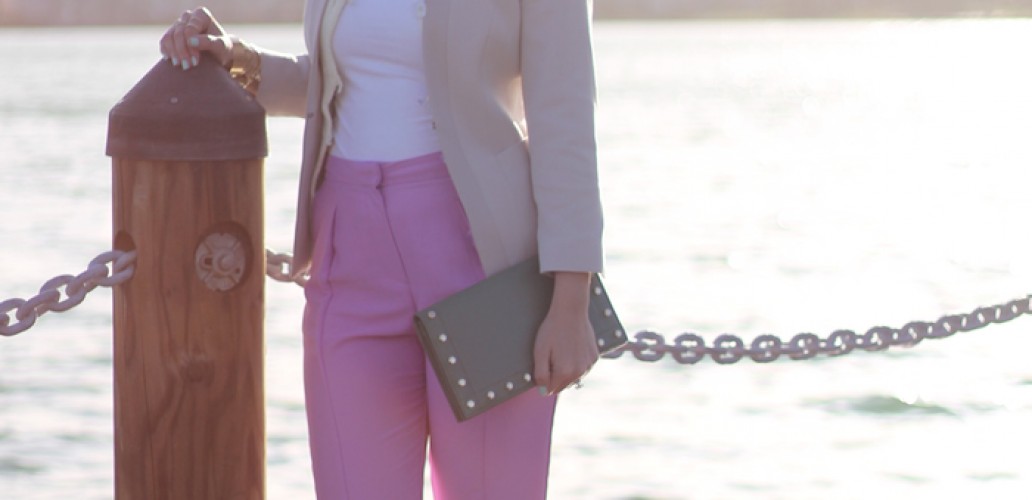 "Twenty years from now you will be more disappointed by the things that you didn't do than by the ones you did do. So throw off the bowlines. Sail away from the safe harbor. Catch the trade winds in your sails. Explore. Dream. Discover." -Mark Twain
[Photos by NR]
Top: BCBG White Tank from/Vintage Cap Sleeve Floral Cardigan Pants: H&M lavender high-waisted trousers (similar
here
) Jacket:
H&M
Tan Blazer Purse: Zac Posen green clutch Shoes: Giuseppe Zanotti Glasses: Christian Dior Bracelet/Necklace worn as Bracelet: H&M    
Pastels before spring?  Heck yea! Lilac, baby pink, sky blue, pale yellow, and spearmint are the quintessential color palette for springtime. Pastel colors are feminine, flirty and sophisticated which can also give off the feeling of ease and grace. Adding these accents has certainly perk up my winter wardrobe and got me a little more excited for sun-kiss weather (if you haven't notice, I 'm not a big fan of cold).
…But how do you wear Pastels?
Below are 3 looks I've created with a similar pair of high-waisted trousers via my polyvore page. Click on the templates below to get details on each item.
:: Pastels and the 3 B's ::
Neutral tones complement pastels very nicely and while adding Brown and Beige balance out pastels, Black adds spunk to the delicate hues.
:: Pastels and Color-Blocking ::
Color-block pastels with black and white to add a touch of elegance, edge and jazz.
:: Pastels and Pastels ::
If your outfit consist mostly of pastels, be sure to add neutral tones to balance out the cotton candy colors and to avoid landing in the Easter egg territory.
READERS:  What's your take on pastels and which one is your favorite look?