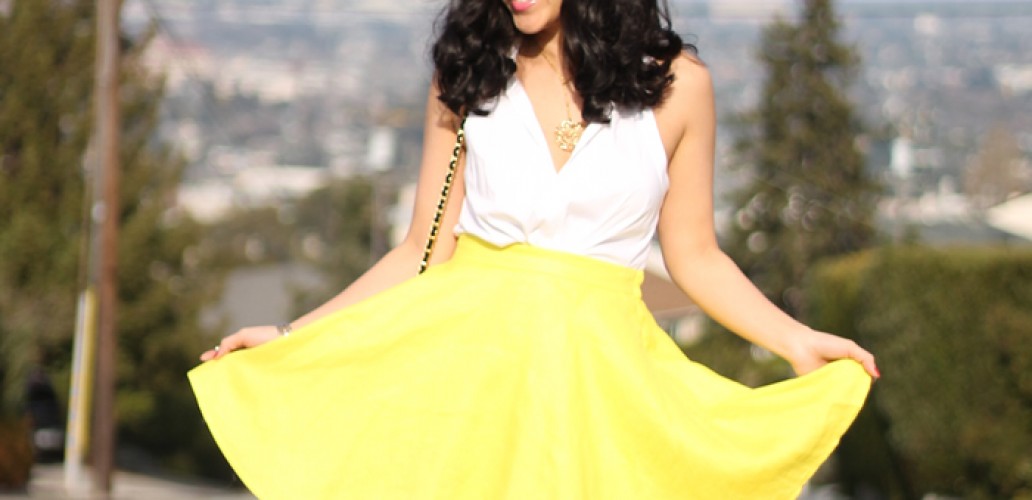 Sunny Delight
"Humor is the great thing, the saving thing. The minute it crops up, all our irritation and resentments slip away, and a sunny spirit takes their place." – Mark Twain
[Photos by NR]
Top: Poplin Twist Front Halter Blouse from BCBGMAXAZRIA (similar here)
Skirt: H&M
Purse: Rebecca Minkoff Swing Black Shoulder Bag
Hat: Straw Fedora (similar here)
Shoes: Charles David
Cage Ring: H&M
I came across this "sunny" flared skirt from H&M the other day and was immediately in love. As you can see, I can't get enough of bright colors these days. The only problem was it was slightly loose in the waist. Too lazy to pull out the sewing machine and didn't want to wait 4 days for my seamstress to fix the problem (I'm an Aries, and we are very impatient), I decided to do a quick D-I-Y. A needle, thread, a pair of scissors, an iron and 7 minutes was all that was needed to slim and turn this baby from a size 4 into a 2!
Tutorial: How to change the size of your skirt in a few short steps
Instructions
Step 1: Turn your skirt inside out and try it on to see how much you will need to take in. Since the zipper is on the right, grip the extra space on the left with your fingers and mark with a pencil or use a pin to hold it in place. This is where you will need to sew.
Step 2: Thread your needle. If you doubled the thread, tie the ends together. Starting from the edge of the waist band, begin sewing downwards.
Step 3: Stop at the end of the band (right before the satin fabric) and start sewing upwards. This will create a stronger hold, just in case the thread rips.
Step 4: Sew the end multiple times to create a tight knot. When finish, simply trim the thread with scissors (I actually sewed downwards again to ensured it's tight and secured because I have the worst of luck (long story)).
Step 5: Fold the extra fabric over and place it against the band of the skirt.
Step 6: Sew the very edge of the extra fabric securely to the band.
Step 7: Iron the outside of the skirt to create a smooth straight line.
Step 8: Re-check and try on for size!
Since the skirt is flared and loose, you can get away with not sewing all the way down to the bottom… This simple process took me less than 10 minutes, I saved $20, and didn't have to wait 4 days for my seamstress. Score!