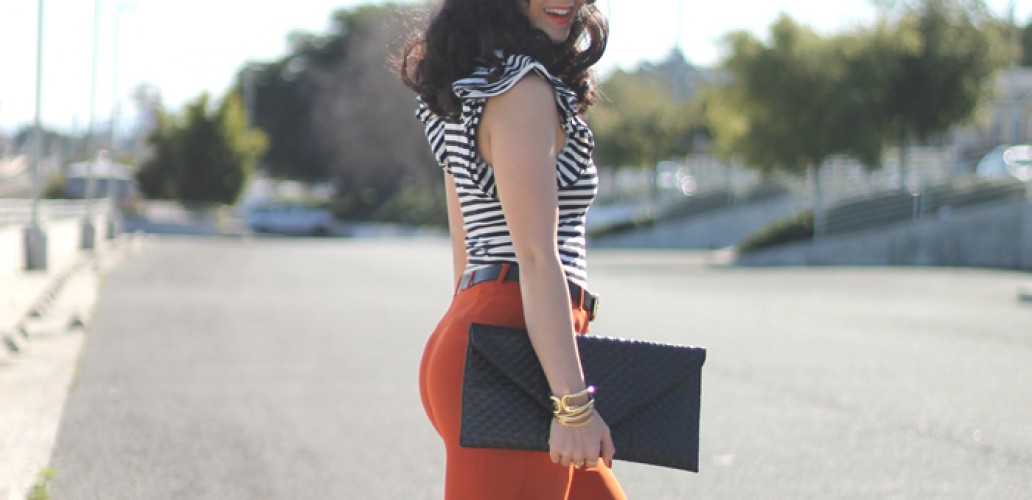 Petite Fashion Challenge #13: Stylish Under $100
This month Petite Fashion Challenge #13 (PFC) is hosted by Annie of Really Petite. Check out her site to see the list of other participants.
For those that doesn't know what PFC is, it's a Fashion Challenge hosted by a different style blogger every month… You don't need a blog to join in on the fun, just send a message to the future host for instructions prior to the  scheduled date. You can also stop by Alterations Needed Forum to see past challenges and check out upcoming ones!
The Challenge
Stylish under $100: The challenge is putting together a professional outfit (excluding shoes and accessories) for under $100. This task was a breeze for me 'cause I just recently purchased an outfit well under that price range. The breakdown is below.
[Photos by NR]
(Not included in estimate :: Glasses: Gucci, Clutch: Vintage) *** Top: French Connection Stripes Top from
ASOS
$28.65 (on sale) Pants:
Forever21
Wide Leg Woven Pants $22.80
Total for Outfit : $51.45
  (Bonus) Belt: Forever21 $8  Shoes:
ASOS
$32.23
Total for Outfit with Accessories : $91.68
Traded in the pencil skirt and blouse look for a "Business Casual Friday" outfit.
I found these tawny orange wide leg pants at forever21 and thought, what a great way to liven up my typical work ensembles! Incorporating a little bit of ruffled by this French Connection top adds a girlie touch. Complete with a Forever 21 belt, ASOS black peep toe pumps and a black clutch.