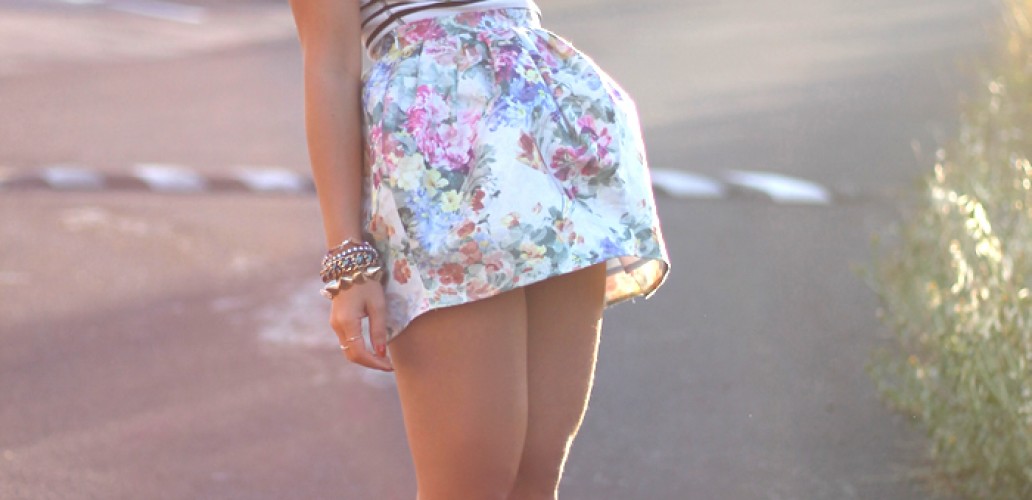 In the Mix
Matching? Not on this blog! :)
What I absolutely adore about fashion as of late is seeing a lot of fab ladies (and let's not forget the fashionable men out there) around the globe letting go of preconceived boundaries in favor of experimentation. Everything is getting brighter, bolder, and louder. Although it's not a brand spanking new trend, one popular product of this movement is mixing patterns: Polka dots, stripes, floral, and animal prints are a few of my favorite patterns to play with…I love floral and stripes so it was natural to mix these two patterns together.
What are your favorite prints to mix?
Yea yea I know, an alien is about to pop out of my tummy any minute now.
I'm madly in love with the fullness of this skirt. When I first saw it on ASOS I knew it's a piece I had to add to my wardrobe… It's fun, girlie and something I'll wear many times. With the skirt being high waisted and very mini-ish, it gives the illusion that my legs are longer than they really are. Plus the camel color pumps help elongate the legs.
Speaking of ASOS, this is quite embarrassing but it took me awhile to realize the correct pronunciation of the popular online store's name. I have been calling it A-S-O-S (saying each letter) instead of Ay-SOS! My bestie and I even jokingly made fun of someone who pronounced it Ay-SOS (the nerve of us!).
[Photos by NR]
Top: Forever 21| Bottom: ASOS lantern floral skirt | Purse: Steven by Steve Madden Large Crossbody | Shoes: Classiques Entier riley pumps | Hat: David & Young Neo Noir fedora | Bracelets: diy wraps, Forever 21 friendship, spikes via Ebay (similar here)
***
Thanks for stopping by the blog and I hope you are having a lovely day!
Talk to you soon! xo