Hello Blue Rebel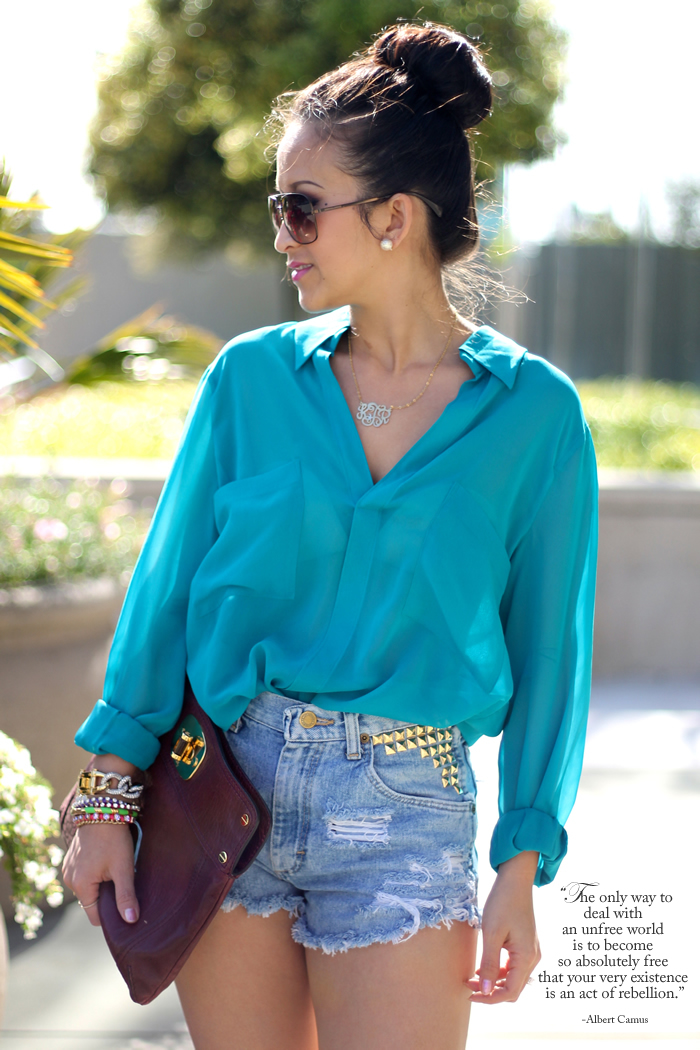 Love this monogram "KTR" necklace (that resembles my blog logo) but I love it even more since it's a gift from my dad… Someone else who wears monograms fabulously is one of my fave SF blogger, Atlantic-Pacific, who's style is impeccable! If you haven't, make sure you check out her blog.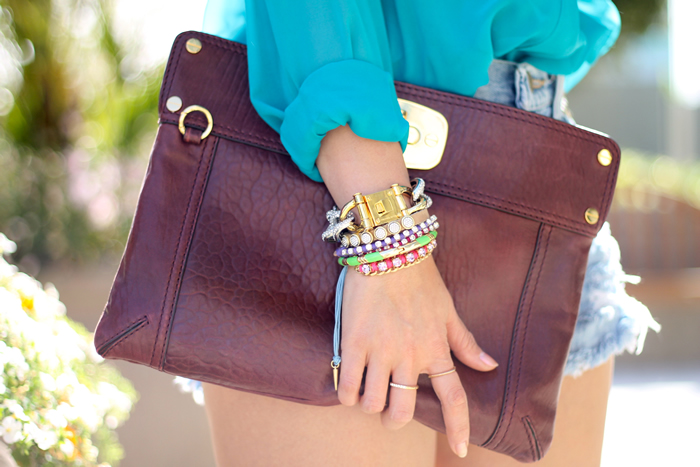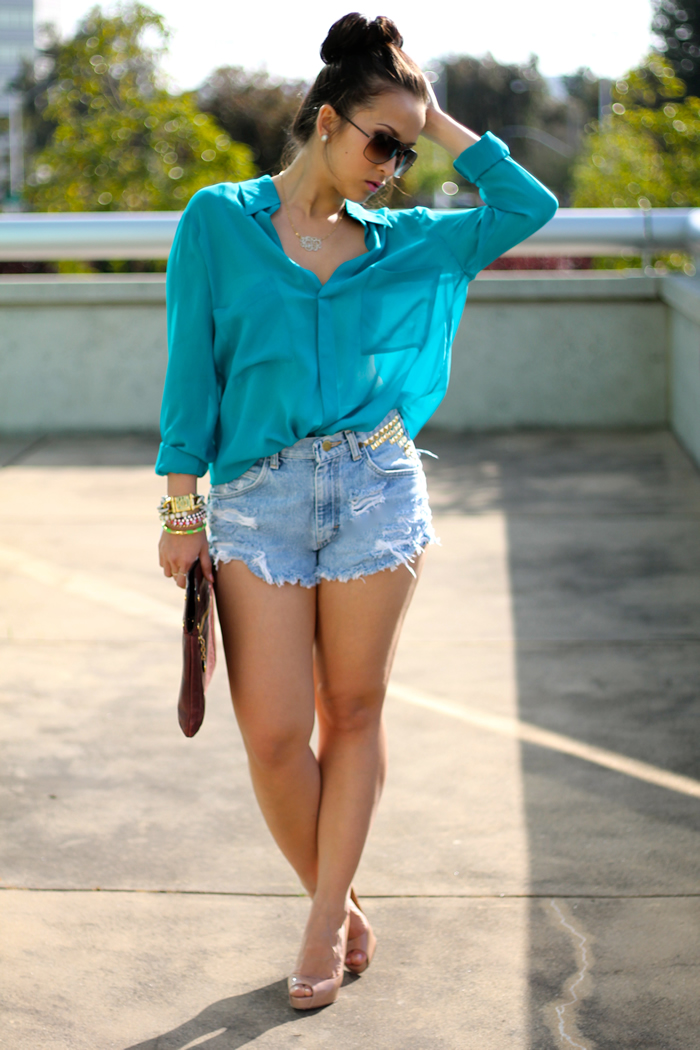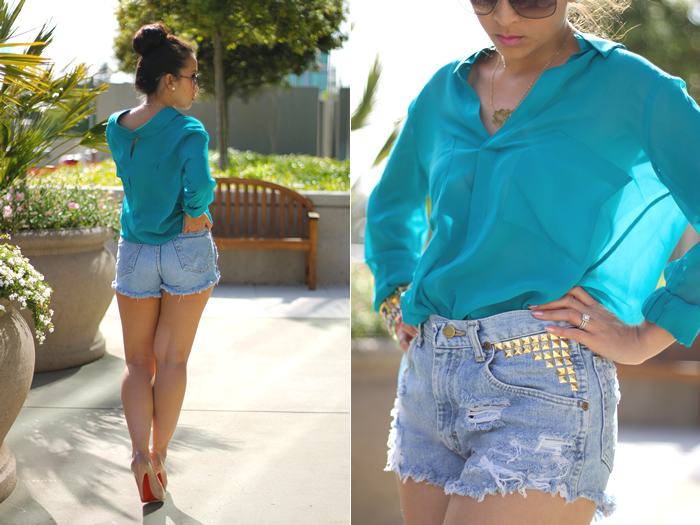 One of my favorite trend this summer is high-waisted studded distressed denim shorts (that's a mouth full :). I was looking everywhere from ebay to the usual online stores like NastyGal, ShopBop and UrbanOutfitters, but the ones I really love were well over $200, which I don't think is worth the price IMO…esp if it's something that can be made at home.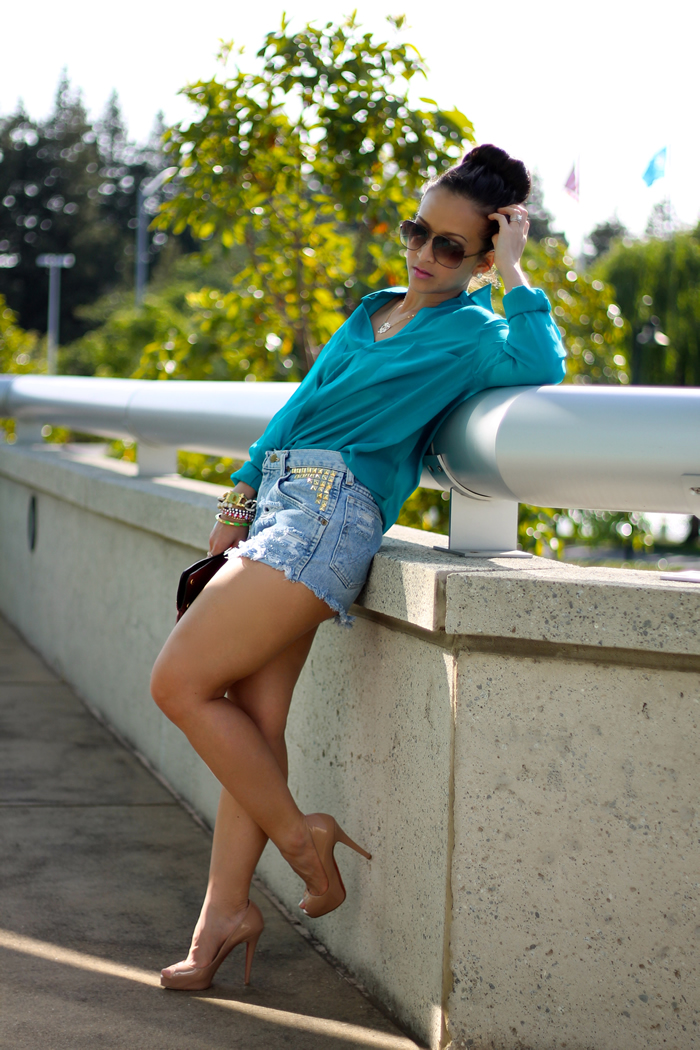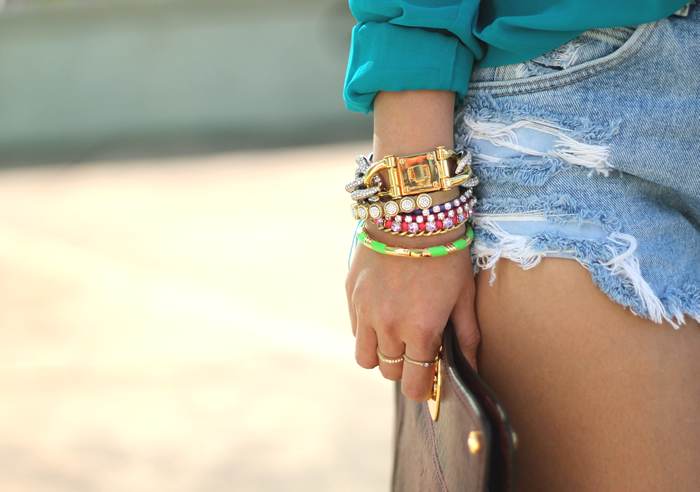 [Photos by NR]   Top:
BCBGMAXAZRIA
Emma button down silk chiffon blouse Shorts: DIY (see below for tutorial) Glasses: Giorgio Armani / Necklace: Gifted / Shoes:
Christian Louboutin
Very Prive Purse:
Milly
Allie Clutch Bracelets: (from top) Michael Kors 'Collections' two-tone link chain pave bracelet (similar
here
),
Jest Jewels
, DIY wrap bracelets,
Rachel Roy
friendship,
Bar III
neon bangle
I was in UrbanOutfitters last week and saw a bunch of "one of a kind" distressed shorts. After inquiring, a sales associate told me those particular shorts were jeans that's "renewed." My Translation: Those shorts were denim jeans purchased from thrift stores (or other various vintage shops) for under $10. Then they were cut, distressed, and now selling for $100+.
If I was short on time, I probably would gave in if the exact style and color I wanted was available in stores, but they weren't… so I set out on yet another DIY adventure to make these babies…and the end result is below. Do you love it?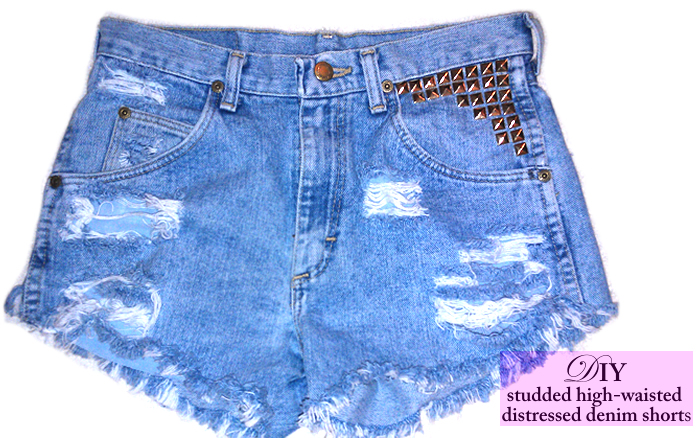 If you love having the option of choosing your own color, design and like to save some cash, DIY'ing is a good option… It's super easy to do in a few simple steps and you'll only need 4 things to create this look:
What you'll Need
1) A pair of scissors
2) Pyramid studs ($0.99 on ebay for 50 pieces)
3) Tweezers
4) High-waisted denim jeans (can be found in thrift stores or vintage shops)

Head to your local thrift store and look for a pair of "mommy jeans." An easy way to find these high waisted denims is by looking for those with really long zippers. Don't worry if the overall fit is not perfect. As long as it fits your waist and hips, it'll work! Also, don't forget to check the men's section as sometimes you'll find these pants there. I purchased the above Wranglers for $8, found in the men's section!

1) After you found your perfect mommy jeans, cut them (diagonally) to your desired length. Start cutting with one leg, then fold the jeans over and cut the other leg.
Tip: Cut them 3-4 inches longer just in case, try them on and work your way up. Also, bare in mind you'll need to leave at least 1/2 to 1 inch longer for the fraying at the ends.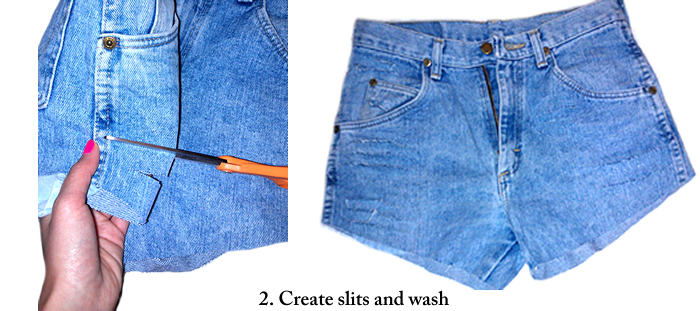 2) Now it's time for creating that lovely distressed look. Get a sharp pair of scissors (be careful not to cut yourself!) and create slits wherever your heart desire. Create 3-4 slits in each area leaving about 1/2 between each line. After you're finish, throw them in the washer and you're almost done!
Tip: Try not to make your slits too long or else it will end up creating a big hole in the washer. Also, unless you want to shrink your shorts, wash in cold water and dry on low heat.
3) [Optional] After it's dried, clean around the edges by trimming off the frays that are too long. You don't have to do this unless you want a clean distressed look.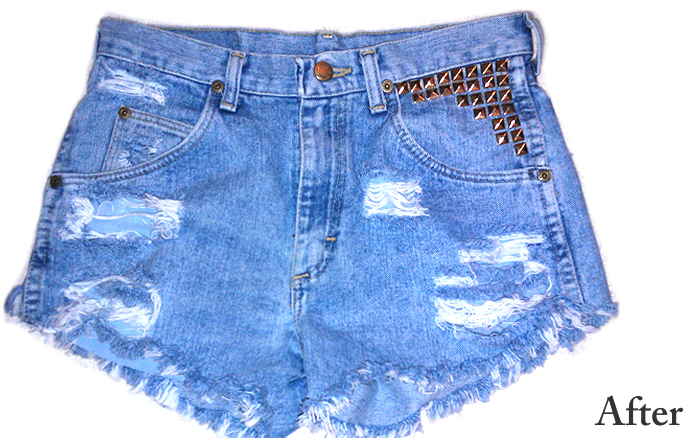 4) Finally, add the pyramid studs using your tweezer to push down the four ends on the back and that's it! All done!
Tip: Add the studs wherever you like! On the pocket area, on the side trims, and/or on the back pockets! It's your personal pair and you can get as creative as you like!
* * *
Not only was this a fun project (almost as fun as my tulle skirt DIY), it was really nice to know I only spent $9 and got exactly what I wanted! :)
Readers: I love to know your thoughts on distressed shorts and if you're going to make one? :)