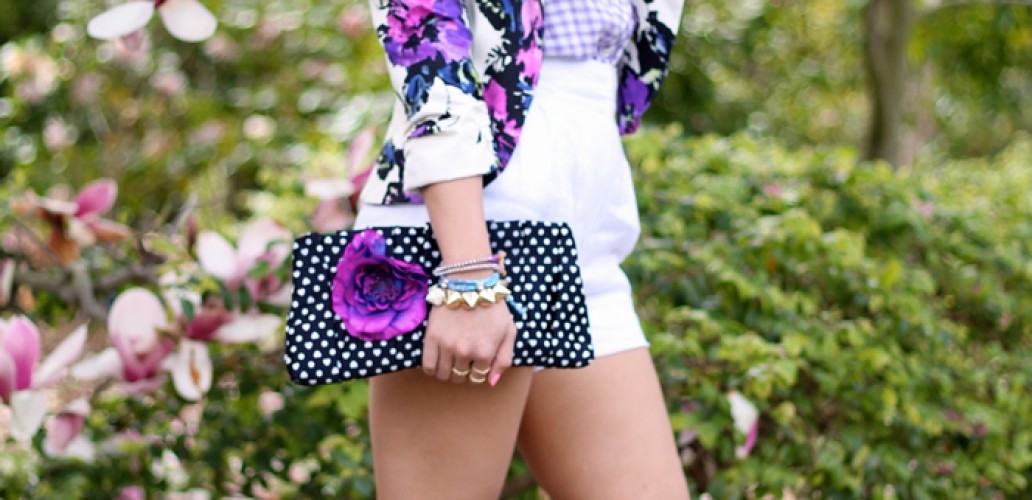 Flower Power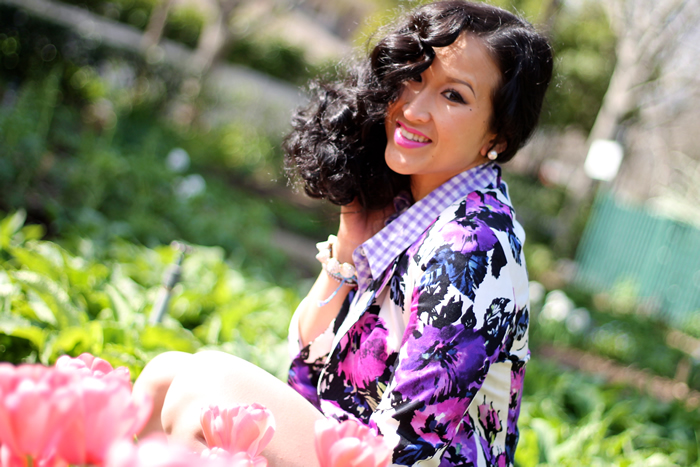 "Find the guy who calls you beautiful instead of hot, who calls you back when you hang up on him, who will lie under the stars and listen to your heartbeat, or stay awake just to watch you sleep…The one who turns to his friends and says, "that's her." – Anon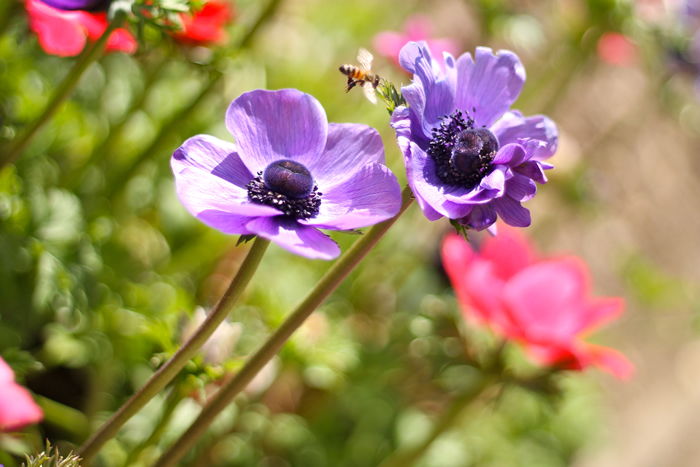 NR captured this awesome pic of a bumble bee trying to get him some sweets at the gorgeous Gamble Garden in Palo Alto.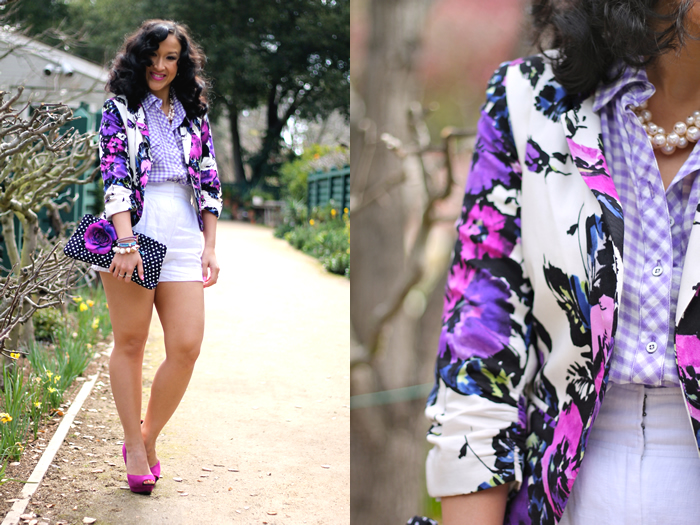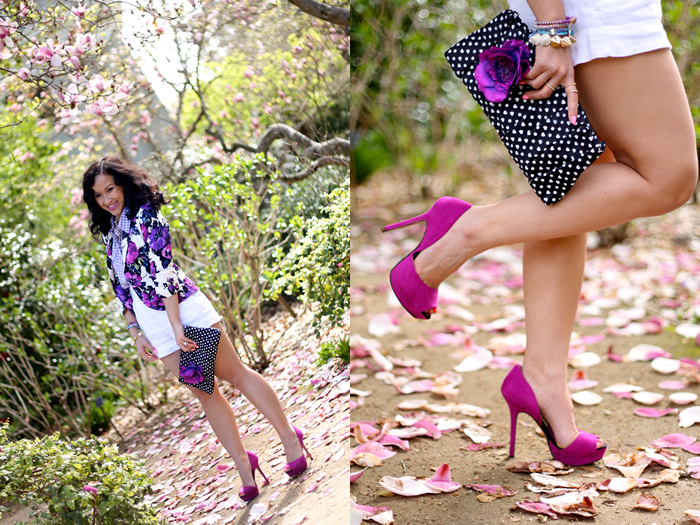 When I was younger, I used to have a few items I loved to wear. Some of them are stripes, polka dots, and plaid, and because I love the pieces so much I would wear them all at once. The kids in school used to laugh at me saying I was weird. I never thought I would grow up wearing something so similar… I guess I'm still that weird kid. :) I only wish I have a "before" pic to show you. It would be really funny.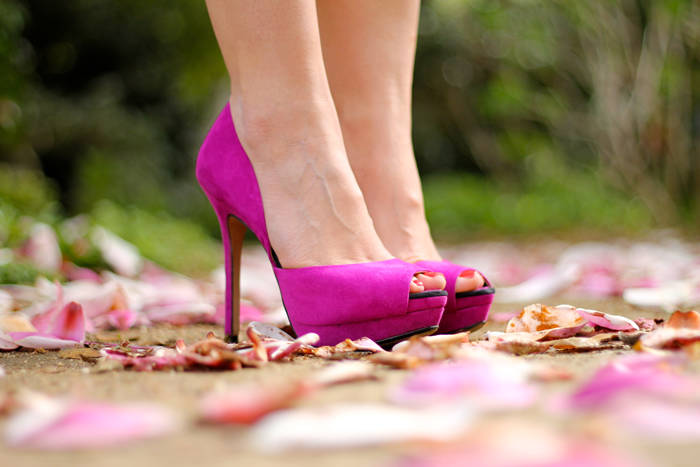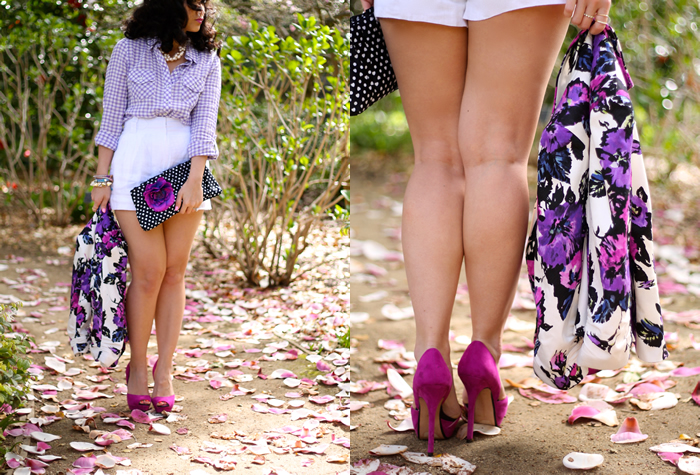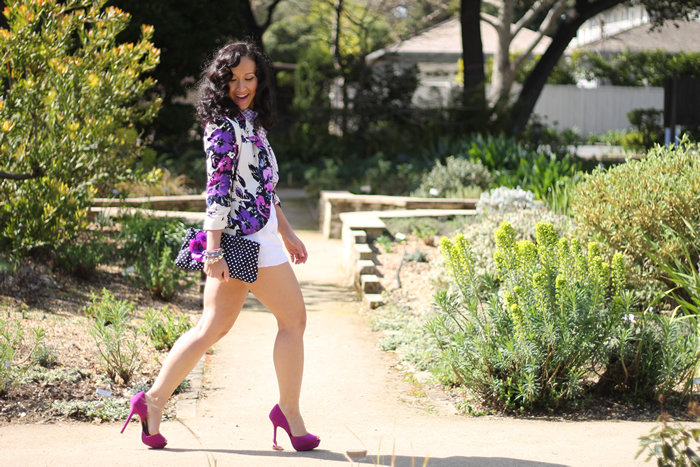 [Photos by NR]
Top:
C&C California
mini gingham shirt Shorts: High-waisted BCBGeneration linen shorts (old, similar
here
,
here
, and
here
) Jacket: Floral Aqua Blazer Shoes:
Zara
fuchsia pumps Purse: Express polka
dots clutch –
if anyone is interested, I'm selling this clutch
Accessories:: Earrings: Kate Spade//Necklace: Forever21//Spike bracelet: Ebay//Friendship bracelets: DIY//Flower Broach: Forever21
I have been on the hunt for a nice floral statement piece to add to my wardrobe but I didn't think I would fall head over heels for this Aqua blazer. The colors are vibrant, the flowers are purple & pink (my two fave colors) and it's ultra girlie. I had some fun reliving my childhood days by mixing floral with plaid and polka dots. I added a purple flower broach to the clutch to tie it to my outfit. When mixing prints, the thing to look out for are similarities in color schemes. Even when prints are all different, the similar hues can tie everything together.
Don't forget to enter my Giveaway to win a free Turquoise Necklace and Earrings Set. Ends Monday, March 12th!