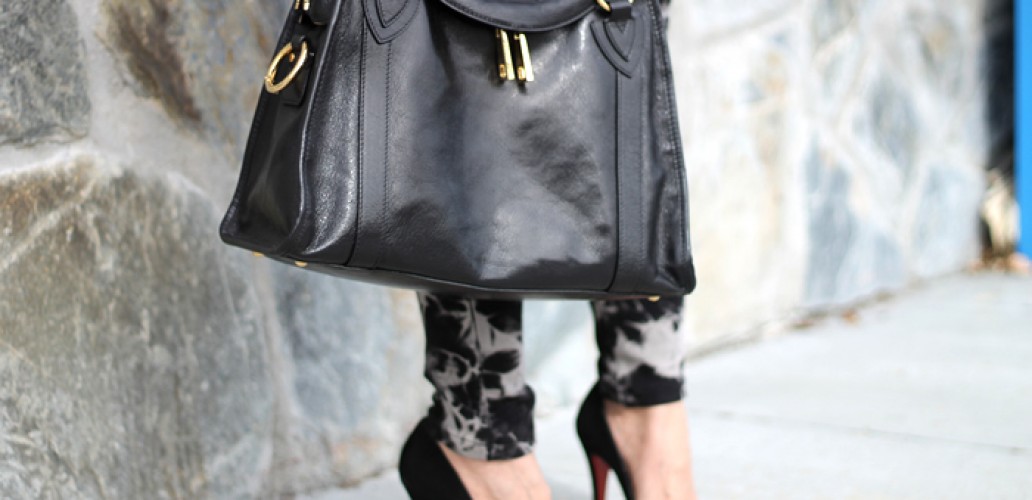 Dabbling in Tie Dye
A couple of weeks ago I created a few imaginary outfits because I was craving some printed pants (see the rest here). One of them being tie dye…
My "fondest" memory of tie dye was in 2nd grade at summer camp when I made my dad a tie dye shirt that said, "World's Best Daddy." The only problem was I ended up looking like the shirt…and for days my ma was fussing & washing paint out of my hair. For that reason, I ended up fearing anything tie dye for a while.
[Photos by NR]
Top: Target Pants: Forever21 Tie Dye jeggings (similar
here
,
here
and
here
) Blazer:
Material Girl
Shoes:
Christian Louboutin
Ron Ron Bag:
Marc Jacobs
Classic Wellington Shades: Giorgio Armani Aviators Necklace: H&M  
I purchased these Forever21 tie dye jeggings a couple years ago when it was all the rave. I figured what better way to overcome the trauma then to wear it, but I just didn't have the courage at the time. Soon enough they were out. When I saw that prints were back this season, I decided to give these pants another try!
Since printed bottoms has a character all on it's own, I thought it would be best to keep everything else simple. Paired with a gray tank, solid blazer, black pumps and very minimal jewelry created a sophisticated look which I liked a lot.
I'm really glad I tried a look I wouldn't normally wear because it gave me a chance to step outside of my comfort zone and experience something new, well, in my case something less messy. Next time I want to try an over-sized white tee with nude pumps to give it a more spring feel. Hopefully, it won't be another 2 years :).
Readers: What do you think of Tie Dye and are there anything you're afraid to wear?