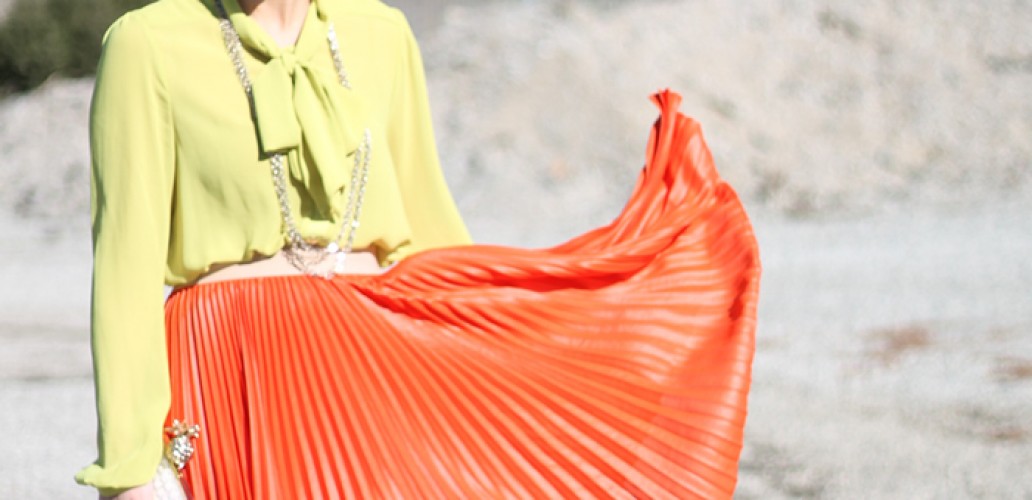 Citrus
"Your attitude is like a box of crayons that color your world. Constantly color your picture gray, and your picture will always be bleak. Try adding some bright colors to the picture by including humor, and your picture begins to lighten up." -Allen Klein
[Photos by NR]
Top: DeMasque
Skirt: BCBGMAXARZIA Tony Pleated Skirt
Shoes: Marciano
Purse: Kate Spade Lella Pineapple Clutch from Saks
Glasses: Tom Ford Nikita
Necklace: Nordstrom
When I first wore pleats, they were plaid and paired with knee-high socks, accompanied with a heavy backpack and a pimply forehead. Never was the day I thought pleats and I  would meet again with such love and affection…
Inspired by one of my favorite decades the 1950s, the pleated skirt is a trend that has been reinvented with various bold colors and prints for the modern outfit (thank goodness!). Whether it's a mini, midi, or maxi, this style is flirty, feminine and will add a touch of elegance to your appearance.
:: Style Tips :: How to Wear Pleated Skirts
Tops: To achieve the flowy and effortless look, pair your midi or maxi with a crop top, a loosely fitted blouse, a simple tee, a tank or tube top. A mini has less flexibility because it's short and shows a lot of legs. Add contrast to your mini by pairing it with something loose-fitting like a simple tee for a casual look or a blouse for a dressier look.
Shoes: Sandals, wedges, flats and pumps all goes well with pleated skirts. For a relaxing day out, pair your maxi with flats. If you're feeling a little edgy, ankle boots and the mini make a dashing combo.
Accessories: Don't forget to accessorize! Whether it's a fun necklace, a statement ring, earrings, belt or scarf, adding these little elements can make the outfit even more special.
Patterns/Colors: Do the color mixing. Mixing bright colors is so much fun and can cheer up a gloomy day (for me at least). If you're feeling a little adventurous and want to mix patterns, try mixing patterns that are not too large.
Finally, don't be afraid to try something new. Whether it's an alarmingly bright color or a  style different from your everyday getup. Give it a chance because you may be surprise how fabulous it can be on you…
xoxo