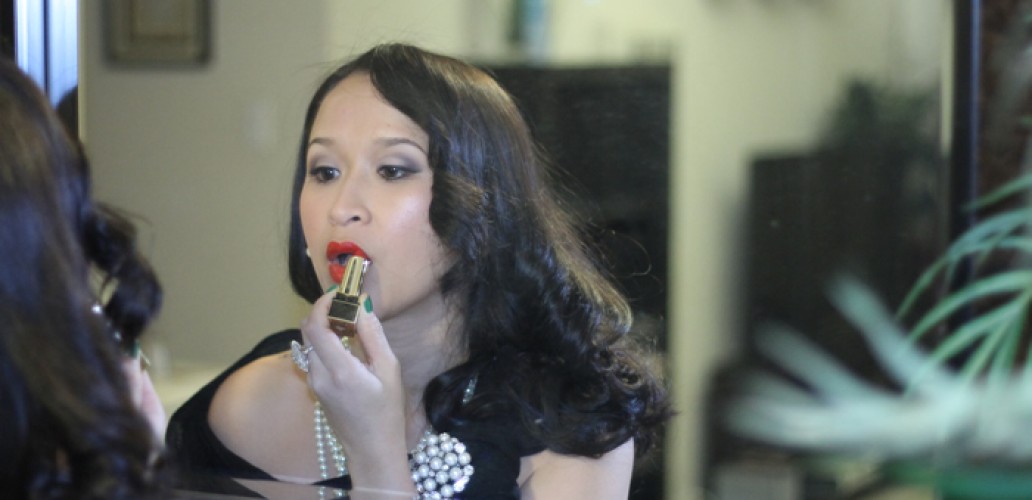 I'm excited to participate in yet another fun fashion challenge! This month Petite Fashion Challenge #14 (PFC) is hosted by Couture Coco. Check out her blog to see the list of other participants.
The Scenario: I have "formal" dinner plans the same evening I arrived into town. Upon arrival, I was told that my luggage will be delayed until the next day. All the running around left me no time to stop by any stores to pick up a dress.
The Challenge: I need to style my travel outfit into a special evening look using whatever I carried in my purse and anything else immediately at hand! Yikes!!
Thanks a lot AA!
On my last trip, I wore this really old but super comfy Marciano teal maxi dress with flats (we went to the airport last night to recreate this look lol)… My travel outfits are typically combined with a hat, small carry-on, my handbag, a scarf, jacket, a good read and my beloved pet pillow Kathanael.
Lucky for me, I always carry on my makeup, hair brush, a pair of heels and my jewelries.
In case of emergency situations like these, all I have to do is brush my hair, apply makeup, add accessories and get a little creative with what I had on hand…  This challenge definitely prove that making something work at the last minute is totally doable if you are just a little prepared.
Dress: Marciano tube maxi (old) (similar
here
) Denim Jacket: Bebe Sandals:
Dolce Vita
Archer Flats / Heels: Christian Louboutin Very Noeud Purse: Louis Vuitton Trevi PM Scarf: H&M Hat:
Juicy Couture
Fedora  
Thank you Couture Coco for such a fun challenge!
For those who doesn't know what PFC is, it's a Fashion Challenge hosted by a different style blogger every month… You don't need a blog to join in on the fun, just send a message to the future host for instructions prior to the  scheduled date. You can also stop by Alterations Needed Forum to see past challenges and check out upcoming ones!
Click HERE to see my first PFC #13