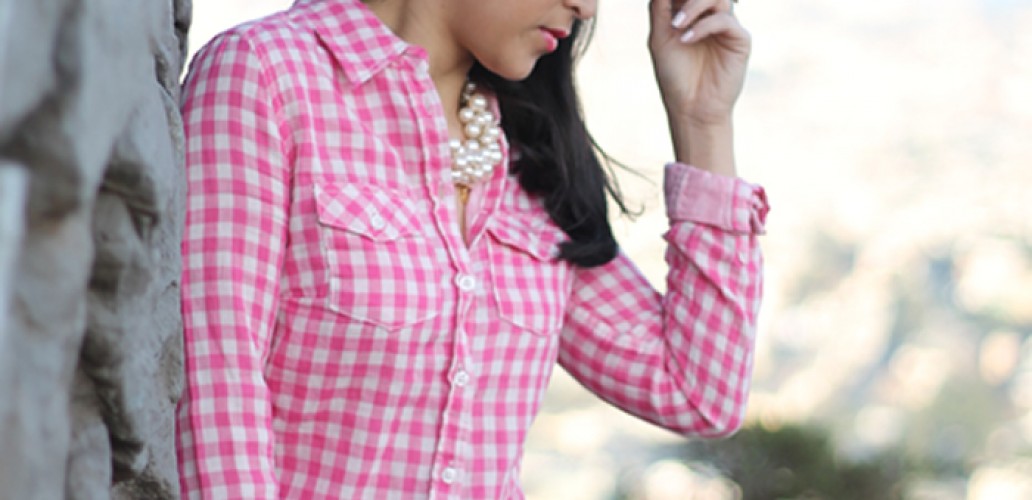 Casual in the City
"The only real elegance is in the mind; if you've got that, the rest really comes from it." -Diana Vreeland

Shirt: H&M
Jeans: High-waisted denim from DeMasque
Hat: Juicy Couture Perforated Fedora from ShopBop
Necklace: Forever21
Bracelets: Gift from mom
My husband, NR (the man behind the lens) and I decided to do a bit of sight seeing at Twin Peaks (SF) this Saturday because it was such a lovely day in the city. The road was very winding, but when we reached the top, the view was breathtaking. We hung around, took lots of photos and stopped by a local pizzeria to feed our hungry tummies.
* * *
I wanted to be casual but fun so I picked something a little different for me, the high-waisted denims… I know they have a reputation for looking like "mom jeans" but sometimes a higher waist can actually make a waist look leaner because it smoothes out  the torso and doesn't leave any unwanted body part hanging out. Also, with the right high-waisted pants, worn with the right top and shoes can make an outfit look stylish!
:: Style Tips ::
Top: High-waisted pants looks best with sophisticated and "slightly" loose fitting blouses or a tight fitted top. Make sure the shirt is tucked in and does not add bulk under the pants. If the fitted top makes you uncomfortable, consider a loose cropped top so you don't lose the elongating effect of the pants.
Layers: If the thought of wearing high-waisted pants is terrifying, you an add a vest, cardigan or blazer untucked over the top.
Accessorize: To finish your look, add a belt or go without one. If you chose the latter, accessorize by adding a statement necklace or earrings. I went with a pearl necklace because it brought a bit of elegance to this casual look. Finally, a lovely fedora came in handy for a no-hair-brushing day.
Do you love or hate the high-waisted trend?